the truth about teeth
Your teeth are amazing!
Here are some "truths about teeth" that prove that your teeth are truly extraordinary.
Teeth are a very important part of your body. Without teeth you wouldn't be able to smile, eat the food you love, or talk to people. We all know that regular dental monitoring will keep your teeth healthy, but do you know these fun facts?
Did you know this about your teeth?
The enamel on the upper surface of your tooth is the heaviest part of the whole body.
Human mouths contain more bacteria than humans on Earth.
The taste buds have a lifespan of about 10 days and need about 1 to 2 weeks to regenerate.
The tooth is the only part of the body that cannot heal on its own.
You can only see 1/3 of the teeth. The other 2/3 is hidden under your gums.
When you do not use dental floss, you miss cleaning about 35% of the tooth surface.
Dental floss can extend life expectancy by up to 6 years as it reduces the chances of infectious diseases and can even prevent heart attack.
Your smile is a true sign of your individuality!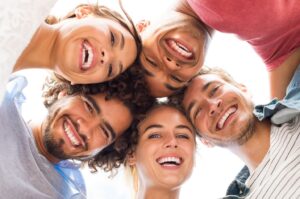 90% of systemic diseases, such as heart disease and diabetes, are related to your oral health.
A sore jaw in combination with chest pain can signal a heart attack – especially in women.
It is important that the toothbrush is dry because bacteria grow faster on wet surfaces.
Tooth decay is the second most common disease after a cold.
The average woman smiles 62 times a day, while men smile only 8 times a day.
60% of adults are attracted to someone just by their smile.

On average, people spend about 38 days brushing their teeth.

Your teeth are as unique as your fingerprints, no two sets are the same.

For life, your mouth will create enough saliva to fill two pools!

 Teeth can tell stories about you. Scientists can say a lot about us just by examining our teeth.

Did you know that our teeth reveal how old we are, what we eat and drink?

Whether we're talking about the 20 "baby teeth" that serve us in childhood or the 32 permanent teeth we have in adulthood, no two teeth are exactly the same shape and size.
Each tooth in the mouth has its own unique profile, and teeth also vary greatly from person to person.
A smile is the best you can wear, so it's important to take care of your teeth.